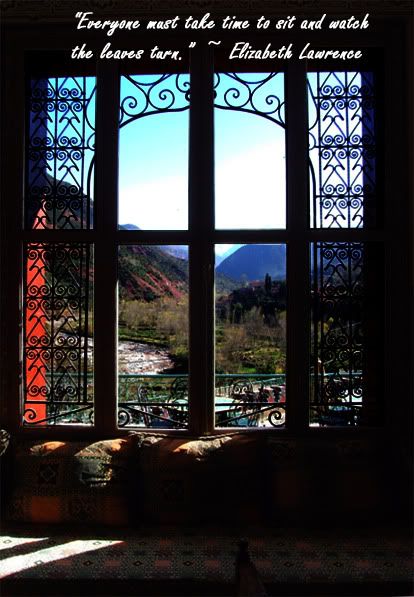 Autumn, you rush in like a kiss brushing the cheek, yet leaving an impression.

Autumn, you call to me like a long lost friend;


"Remember me? How my colours evoke silences? How you taste the minty air on your lips? No more heat for you my friend, still I bring warmth... I unearth your sweaters, your scarves, your happy shiver. "
Autumn reminds that we all love a little surprise, a spicy breeze captured in the cocoon womb of our jackets - worn and comfortable - or newly bought, "For me? Why, thank you" says Autumn, "I always like it when you dress up".

"But, oh dear soul" soothes Autumn, whom shall herein be referred to as "A",
"I am more than a change of look, sweet as it is, nay, superficial fare am I not.

I am your reminder, your conscience, your special season. I show that life is not endless Summer nor forever Winter. I laugh at Spring, your fleeting friend, for I am "A", your gentle one.

I quicken your pace, as Winter saunters, and there is much to be done. The languid days of Summer have taken their own holiday, after kindly hosting yours. But "A" is here, the loyal nudge along the cycle of life. "
"Remember, remember" whispers "A", "Time is the fleeting season, circling once before it passes".

Love, live, renew... wrap up warm, sip your steaming cup and ponder your map of life. Then smile as another breeze raises a gentle kiss across your cheek, whispering "Remember, love".

Our time on earth is but a raindrop in an ocean of always.

Peace,
x