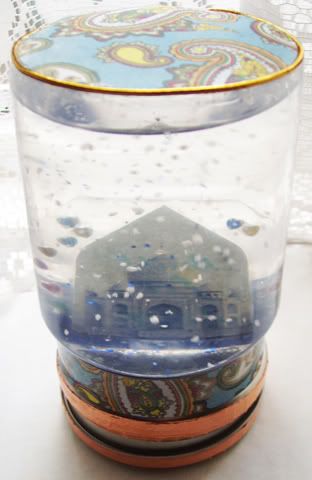 I got a little cold this weekend. Welcome to London, you are truly back. I wish someone had reminded me that cold medicine contains caffeine and caffeine, well... look what happens when you don't sleep.
I always find that my mind shuts down but my body is awake which negates writing. Option 1: Paint .. too messy, Option 2: Make something I like. I like .... I like.... zzz... OK... I like Snowglobes. This was a hobby I haven't indulged since childhood. A time when I travelled everywhere with my loved ones and wanted to capture each experience in a bowl of water and have it slow-moving and dreamlike like a memory. It's been a while but I still see the small snowglobe collection from those years with a mixture of warmth, nostalgia and a slight twinge of tacky-shyness.

This then reminded me that "someone" I know enjoys a recon. altoid tin. This is the strangely therapeutic practice of taking an empty tin (formerly housing mints) and making it a into a new artwork. In my case, I wanted to make the world's first altoid tin Snowglobes. As a previous insomnia-fuelled effort had been admired, I decided to make another. The themes were chosen for me - travel, mystery, Taj Mahal, which I someday have to visit. It's time to rest, tins take ages.